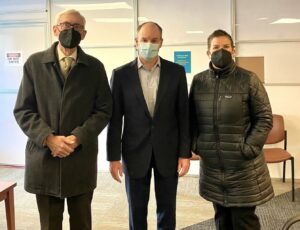 March 2022

Access' Dodgeville Dental Clinic is currently undergoing an expansion project that which will allow us to serve more people who need high quality dental care.

Our Dodgeville Dental Clinic provides dental services to people throughout Iowa, Richland, Sauk, Grant and western Dane counties. The expansion will allow the clinic to take on an additional 1,500 to 2,000 patients annually. The project allows the clinic to move into the second floor, doubling its current 4,000 square feet and add four new dental operatories, bringing its total to 12 operatories. Additionally, the addition of an elevator will make the site more accessible and an upgrade to the HVAC system brings the air turnover rate at the clinic in line with other Access facilities.

"We have been honored to partner with individuals and organizations to bring quality, compassionate dental care to the people we serve," Access CEO Ken Loving, MD, said. "This expansion is critical in our efforts to serve more people and improve the health and improve the lives of people throughout southwest Wisconsin."

The expansion project was made possible through a $250,000 grant from the Wisconsin Economic Development Corporation to the City of Dodgeville.

In January, Access hosted Governor Tony Evers at the Dodgeville Dental Clinic. Governor Evers was on-site for a tour and conversation with our leadership, staff and providers at the clinic, and to recognize our organization for continuing to expand access to high quality dental services for a large geographic area, even in the midst of the pandemic.