Thank you for considering Access Community Health Centers in your career plans! If you are looking to work in the rewarding health care industry, Access has many career opportunities from direct patient care to administrative positions.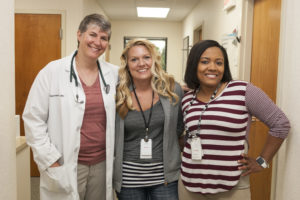 Why choose to work at
Access Community Health Centers?
What we do. At Access, we work to improve the health and lives of our patients, many of whom would otherwise face financial, cultural, or language barriers that would prevent access to high-quality, affordable health care.
Our non-profit organization started in 1982, and now offers care to people from throughout southwest Wisconsin at five locations in Madison, Sun Prairie and Dodgeville. Patients receive medical, dental and behavioral health care, in addition to access to community resources, help with health insurance coverage and access to affordable medications.
Who we serve. Access provides care to more than 31,000 individuals at our five area clinics. Our patients include people of all ages, ethnicities and cultures and are a broad reflection of the communities in which we live. Many of our patients struggle to meet their basic needs, such as housing, access to food and job opportunities.
When a patient comes to us, they can access a variety of providers and services to help them achieve better health. Our team-based approach to care – with the patient an active participant in the care they receive – is what sets Access apart. By making sure each patient receives personalized care in a consistent and caring manner, patients are better equipped to make decisions regarding their health care and take control of their future health and well-being.
Our Communities We Serve. In addition to our administrative offices in Madison, Wis., Access has the following health center locations (select the link below for more details on each location):
Benefits
Our total compensation package includes competitive wages, plus a full range of attractive benefits for regular full and part time staff working a minimum of 20 hours per week and includes:
Health and dental insurance
Life and long and short-term disability insurance
Paid time off program (for vacation, personal and sick time)
Paid holidays
401(k) retirement plan (with employer match)
Tuition reimbursement
Flexible spending plans
Transportation program
Employee Assistance Program (EAP)
Child care referral program
Direct payroll deposit
Equal Opportunity/Affirmative Action Employer
Access Community Health Centers is an equal opportunity employer of minorities, females, protected veterans and individuals with disabilities. Find out more about Equal Employment Opportunity here.

Accommodations & Questions:
If you would like to apply for a position offline, need an accommodation or experience problems using our online application, please contact our Human Resources department by email achc-humanresources@accesshealthwi.org or call (608) 443-5500.