About our Behavioral Health Consultant Post-Doctoral and Social Work Fellowships
We offer two fellowships, the Post-Doctoral Fellowship and the Social Work Fellowship.  The Access Community Health Centers Behavioral Health Consultant Post-Doctoral and Social Work Fellowships offer the opportunity to work in a fast-paced primary care setting within a well-established, integrated program. We work within the Primary Care Behavioral Health (PCBH) model (Robinson & Reiter, 2007), as Behavioral Health Consultants to primary care providers.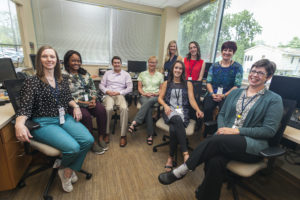 Fellows will learn brief assessment and intervention skills to improve the health and functioning of a culturally diverse patient population across the lifespan training collaboratively with the University of Wisconsin Department of Family Medicine and Community Health.
Patients are referred to Behavioral Health for all types of behavioral concerns, including:
Physical health problems such as coping with chronic illnesses
Medication non-adherence
Health behavior/lifestyle modification
Substance use disorders
And more traditional mental or behavioral health problems
Our program offers an excellent opportunity to learn skills for behavioral consultation in a primary care setting. Several qualities will promote the best fit for this opportunity:
Interest in working with underserved populations and an appreciation for cultural diversity.
Strong ability to multi-task and demonstrate flexibility to adapt to a fast-paced team environment.
Knowledge of behavioral or cognitive-behavioral therapy and brief interventions.
Previous background or strong interest in primary care including behavioral medicine.
Interest in working with a wide variety of presenting problems (depression, diabetes, chronic pain, insomnia, tobacco use, parent-child problems, etc.) and populations (children, couples, older adults, etc.).
Our Behavioral Health Program
Our staff includes psychologists and licensed clinical social workers who work in our three Madison clinics.
We utilize a "consultant" model, in which the goal of patient visits is to augment the usual primary care by ensuring a well-rounded biopsychosocial treatment plan. We provide individual, group, and family interventions and work in close collaboration with primary care providers in a fast-paced multidisciplinary setting to develop a plan the primary care provider can follow-up on.
Visits are targeted (15-30 minutes), limited in number (1-4 generally, but can be more depending on the needs of the patient) and focused on functional restoration.
Our assessments and interventions are appropriate for the primary care setting. This is a great position for fellows who are interested in an integrated model of care that has the potential to become a fixture in primary care clinics of the future as the new standard of care.
These fellowship training opportunities will provide an exciting, challenging, rewarding and stimulating opportunity, in a supportive and enjoyable team atmosphere. Fellows will have a strong balance of autonomy in providing clinical services, while also having readily available supervision and guidance when needed. A key part of integrated behavioral health care is collaboration of the team and mutual respect for all disciplines (family medicine, psychology, social work, psychiatry, etc.).
About Living in the Madison area
Access is located in Madison, Wisconsin, a city of about 250,000, the state capitol and home to the University of Wisconsin-Madison. Situated on an isthmus between two lakes, the city has frequently been rated as one of the best places to live:
#1 Best U.S. Cities for Quality of Life: Nerdwallet.com, October 2017
2nd Best City for Parks: Livability.com, May, 2016
#7 Best Metro Area for STEM Professionals: Wallethub.com, January, 2016
Platinum Level Bicycle Friendly Community: League of American Bicyclists, November, 2016
One of the Top 10 Happiest Cities: National Geographic, January, 2015
9th Best City for People 35 and Younger: Livability.com, December, 2014
#1 Most Livable City in America: Livability.com, September, 2014
#5 Best City for Young Professionals: Forbes.com, August, 2014
Madison is an affordable place to live, with many opportunities for work and play. Amenities include the Overture Center for the Arts in downtown Madison, and Madison's well-known restaurant scene. Outdoor enthusiasts will enjoy the variety of activities available in this bike-friendly city, including water activities on the lakes around the city. Sports lovers can follow the Big 10 sports with the UW-Madison's Badgers.
For more about Madison these websites are excellent resources:
Read more about Access Community Health Centers and our role in the community.