The work of Access Community Health Centers is made possible through the generous support of our community. Access donors share our vision of affordable health care as a fundamental right of every individual, with an emphasis on prevention through education. From in-kind contributions of goods and services from local healthcare and community organizations, to monetary gifts from businesses, foundations and individuals, Access is able to reduce costs while offering outstanding, affordable health care for the people who need it most.
Program Spotlight
In addition to the comprehensive list of clinical services Access provides for its patients, we offer a selection of programs, either privately or federally funded that work to educate as well as meet specific health needs on an ongoing basis. These programs are just another example of how Access implements change to make a difference in patients' lives.
Patient Services: Addressing health disparities by breaking down barriers to care
Many factors can affect your health and well-being, and not all of them can be addressed in an exam room. Access Community Health Centers has a team of specialists working to break down barriers that keep patients from becoming healthy by focusing on factors that contribute to poor health.
Community Resource Specialists (CRS) and Interpreters in Access' Patient Services department help patients by connecting them to needed services and making sure that they can communicate with their care team in their preferred language. It's this connection to care that makes a difference for many Access patients.
"We help relieve stressors that are barriers to health," says Maria Lisius, patient services manager at the William T. Evjue clinic.
Barriers include not having a home or daily shelter, inadequate food, lack of employment, lack of transportation, poor or no health insurance coverage, and more. They are often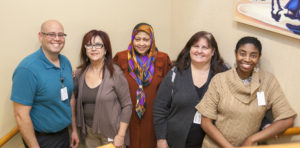 caused by social determinants of health, and are a major contributor to health disparities here and across the country. According to the Centers for Disease Control, conditions in the
places where people live, learn, work, and play affect a wide range of health risks and outcomes.
"Our Patient Resources help address the glaring health disparities in our community, and get people the health care they need to be successful," said Access CEO Ken Loving, MD. "The services offered by CRS staff and Interpreters speaks to who we are and what we do for patients at a basic level."
For Community Health Centers like Access, the services provided through Patient Resources are essential. A majority — 72 percent — of Access patients live in poverty. Another 45 percent have coverage through BadgerCare or Medicare program and 14 percent have no coverage at all. And half of all Access patients are African American or Latino.
If patients need care in a language other than English, Access has eight interpreters on staff to serve the clinic's Spanish speaking patient population. In addition, we contract with multiple interpreters and offer other language services to serve patients in 32 more languages. These services allow each patient to have equal opportunity to participate in their own health care.
By providing culturally appropriate care through Interpreters and addressing factors caused by social determinants of health, Access patients get basic needs met so they can focus on their health and well-being.