News from Access
Community Health Centers
August 2019
Access begins Latinx Patient Advisory Council
On June 19, Access hosted a health discussion for Latinx patients at our Joyce & Marshall Erdman Clinic in Madison. The discussion was hosted by Martha Saucedo, Access Licensed Clinical Social Worker, and Access Board of Directors Member Brenda Gonzalez.
Over 20 patients and their families took part in this discussion, which focused on Latinx health services and the care they receive at Access. The group was composed of patients who have a variety of experiences at Access.
This was the first step in our plan to develop a Latinx Patient Advisory Council at Access, and the group agreed ‒ as part of this initial discussion ‒ to form a Council and will meet again as a group in the Fall.
As part of the Council, members will be given an opportunity to use their experience as a patient to provide feedback on various topics of importance to the organization.
This group is especially important because, over the past year and again recently, there have been increased activities of the U. S. Immigration Customs Enforcement (ICE) officers in Madison and throughout the country. These efforts continue to be a concern for many of our patients and their families. In fact, over the past year these activities have made some of our patients wary of leaving their homes to receive important services they need, including receiving important health care services here at Access.
As our community responds to events and activities involving our immigrant communities, it is also important that Access remains a leader in advocating for the Latinx population in our community.
Access is doing all we can to ensure all of our patients have an opportunity to receive the care they need. Some other ways we are responding to this group of patients include:
Continuing to offer concerned patients with behavioral health support if needed.
Actively reaching out to families to schedule appointments and provide support.
Offering our sliding discount to any patients who may lose their health insurance coverage or have changes in household income.
Encourage patients to sign up for BadgerCare or other assistance programs.
Sharing with patients a variety of resources which can help them make informed choices.
Our Latinx Patient Advisory Council will be another important factor in helping us determine the best ways to support and advocate for our Latinx patient population going forward.
---
Senator Baldwin visits Erdman Clinic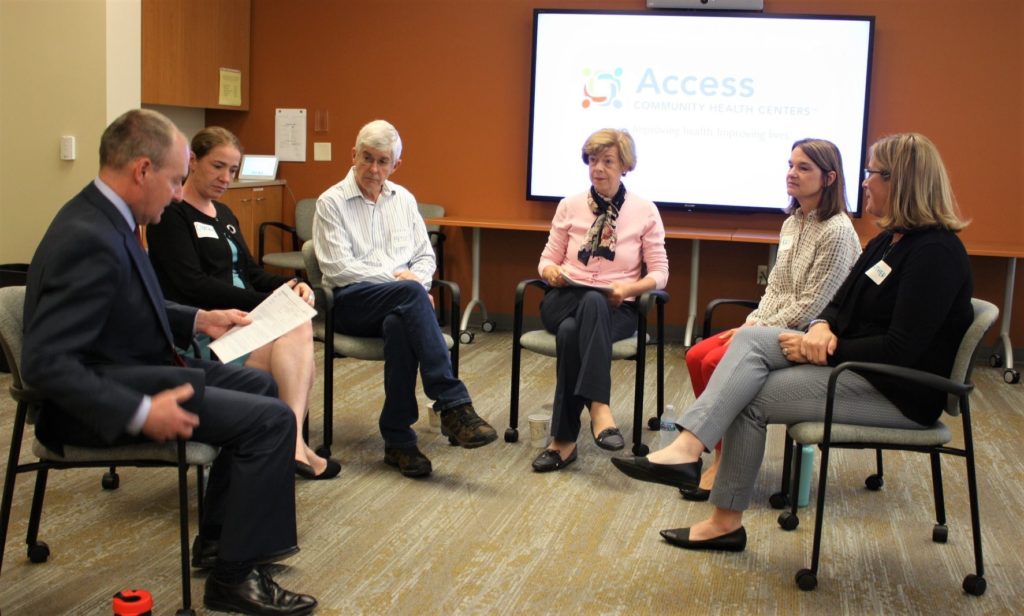 Wisconsin Senator Tammy Baldwin held a roundtable discussion at our Joyce & Marshall Erdman Clinic on June 14 that was moderated by Access CEO Ken Loving.
The future of health care in the U.S. was the topic of this discussion between Sen. Baldwin and a group of people who have experienced health care issues regarding pre-existing conditions.
They talk centered around the difficulties in finding proper coverage for children with pre-existing condition and the need to keep the Affordable Care Act intact.
Baldwin said many people think the Affordable Care Act fight is over but cautioned that several lawsuits to repeal the Act are still pending.
"At the federal level, we have got to stop and fight back against the undermining of the Affordable Care Act," said Sen. Baldwin. "And we have to do a better job of educating about what it is that the Affordable Care Act has helped us achieve."
Senator Baldwin stated that two million people in the state have pre-existing health conditions, including many who are patients of Access.
"Access is a shining example of the importance of the Affordable Care Act and many of its provisions," said Dr. Ken Loving, Access Chief Executive Officer. "Many of our patients are able to receive care and achieve a healthier life as a result of the Affordable Care Act and its many protections for those in need."
Baldwin says the public needs to get involved and keep fighting to save the law that's helped so many people. She encourages people to share their stories and communicate how detrimental it would be to them and their loved ones if we were to lose these protections.
Thank you to Sen. Baldwin for choosing Access to host this important roundtable discussion, and for the individuals who opened up about their experiences in finding proper health care for their children.
---
Access to expand its Group Medical Visit program
Earlier this summer, Access began work to renovate an unfinished space at our Joyce & Marshall Erdman Clinic into an area designated for group medical visits.
The second-floor space at the clinic, located at 2202 S. Park Street, will include one large 300-square-foot group room and a small 144-square foot room, in addition to a consultation office where a provider can meet with patients one-on-one.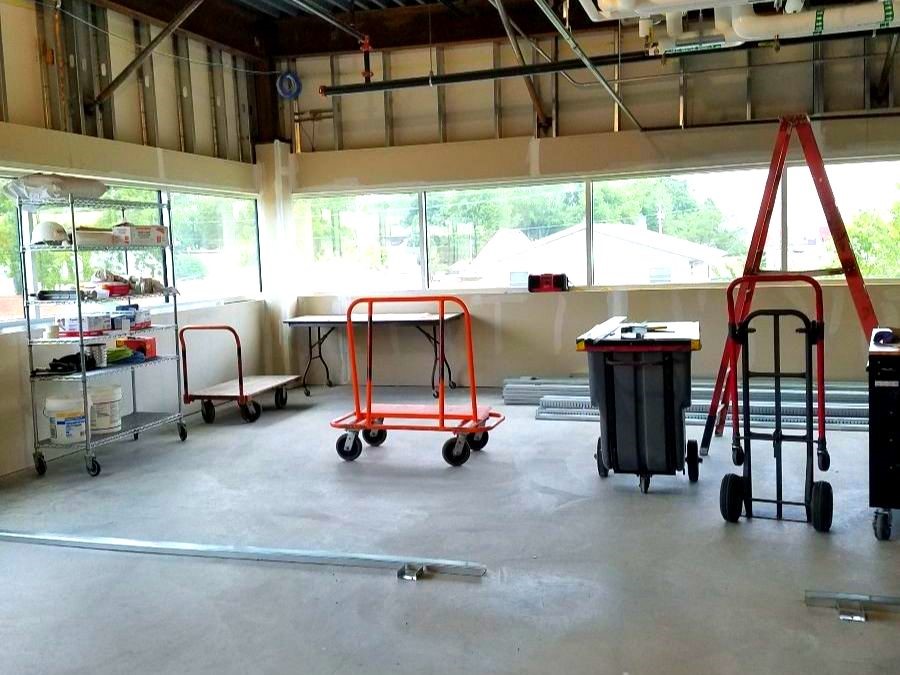 This represents an important addition to Access' patient services, as group medical visits are a proven way to improve the health of Access patients, many of whom don't do as well in the traditional one-on-one clinical setting. Having space specifically for these groups will enable Access to better serve its patients by expanding its group visit program.
Group medical visits can be effective for community health center patients who are at a higher risk of developing chronic diseases. Access has had success with prenatal support groups as well as for patients with diabetes. New group visits will serve patients with mental health issues and substance use disorder, as well as other health conditions led by our Behavioral Health Consultant and Medical Provider teams. Additionally, a Group Visit Coordinator has been hired to help implement the program.
"Group visits have been proven to be successful for improving diabetes, chronic pain, high blood pressure, depression, obesity and many other conditions," explained Access Physician Joe Eichenseher. "They provide a peer support environment and community for patients, many of whom have been socially isolated. They are important because they can dramatically improve the health of many of our patients."
Construction of the group visit space is expected to be complete in September, with new programming to begin in the fall. The group medical visit expansion project is generously supported with a grant from The Caritas Foundation, as well as funding from the federal Health Resources & Services Administration (HRSA) Bureau of Primary Health Care.