Medicaid makes a real difference in our patients' lives
Ken Loving, MD, CEO
This year, Access Community Health Centers marks its 35th year of providing health care. Much has changed over that time, but our mission to provide quality care to those who need it most remains the same. Access continues to respond to a growing need in our community for its services in ways that have a deep impact on people and fa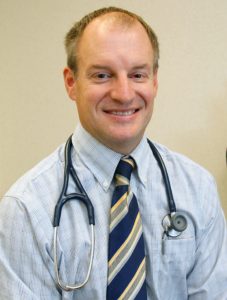 milies.
Together, we've made substantial investments in the health of our community, and worked hard to assure our patients receive high-quality, affordable health care. But that work, and the investment you have provided, is in jeopardy.
Unfortunately, what we are seeing in the current political environment is a misunderstanding of how community health centers like Access are sustained. While Congress continues to consider the repeal and replacement of the Affordable Care Act (ACA), we are also experiencing a willingness to dismantle the current Medicaid health insurance program.
For those who may not know, Medicaid is the health insurance program for low-income people in need. Through it, individuals have access to a broad array of primary and preventive care services. It is a program jointly funded by federal and state dollars.
Almost 797,000 people are enrolled in Wisconsin's Medicaid program, which is known as BadgerCare. At Access, more than 15,000 patients, half of whom are children, rely on Medicaid coverage to receive important medical, dental and behavioral health services.
Approximately 65 percent of our revenue comes through billing the Medicaid program for our patients with BadgerCare coverage. We are able to offer a valuable health care home to our patients, and sustain our organization, due to this important, and essential, program.
And yet, there remains an inaccurate perception of Medicaid as a wasteful entitlement program that fosters lifelong dependence on government-run health care. In reality, Medicaid plays a key role in advancing health equity and improving our health care system.
Consider the following:
Improved access to timely primary and preventive care through Medicaid helps keep individuals healthier and prevents avoidable and costly emergency department visits and hospital stays.
By covering many of the poorest and sickest Americans, Medicaid effectively serves as a high-risk pool for the private health insurance market, thereby helping to keep private insurance premiums more affordable.
The average adult with Medicaid spends only a portion of any given year enrolled in the program. Medicaid helps fill the gap in health coverage that would otherwise leave individuals and families uninsured.
Roughly 50 percent of babies delivered in the U.S. and Wisconsin are covered by Medicaid, with covered prenatal care services through Medicaid leading to a reduction in the risk of low birth weight and infant mortality.
Many people with opioid addiction receive proper treatment services through Medicaid they might not have access to otherwise.
I was in Washington, D.C. in March as part of the National Association of Community Health Center's Annual Advocacy Day on Capitol Hill. When we were there, we heard loud and clear from our legislators that we need to do more to preserve Medicaid. Specifically, they challenged us to tell the story of how our patients and our communities would be adversely affected by proposed Medicaid cuts. We were warned that efforts to cut Medicaid funding will continue.
Over the past two months, we've begun to see how these efforts might take place. In April, the State of Wisconsin unveiled significant changes to BadgerCare coverage for childless adults. The proposed changes seek to charge monthly premiums (with higher monthly premiums for those engaged in "risky behavior"), impose 48-month eligibility limits, impose work or work training requirements and require drug screenings as a condition of eligibility.
Additionally, changes to the ACA via block granting proposals or caps on funding could ultimately lead to cuts in services or even loss of coverage for people who rely on Medicaid to receive health care.
As these Medicaid proposals and repeal efforts to the ACA play out, we need to continue to remind our leaders and legislators of the vital role access to health care plays in developing a more diverse and equitable community.
In short, it is our charge to help our patients find their voice.
We need to turn up the volume of our advocacy efforts, gather stories and data on the importance of our services and publicize what will happen if our patients lose access to Medicaid coverage or important protections through the Affordable Care Act.
We need your help now more than ever. We are committed to providing you with information on issues that affect Access and the lives of our patients. Please stay informed on these issues by following us on social media and on our website. We will notify you of the best times to contact your political representatives on issues that impact our work. In those times, please take action. We learned during our trip to Washington that the avalanche of calls to legislators' offices can make a real difference in their discussions on issues involving health care.
The history of our organization is proof that our community believes we should strive to provide health care for all. Yet, despite our efforts, there are people in our community that still go without health care. We think about these people every day, and with your help, we'll be able to provide more people with the health care they need, today and into the future.
Thank you for your continued support.
---
Donor Profile: Madison Rotary Foundation
Downtown Madison Rotary was built on the precept of giving back.
In its 100-plus year history, this dynamic organization – one of the top Rotaries in the world with a membership of 500 local leaders – has made a real impact on the people of Madison.

One way the club carries out its service is through the Madison Rotary Foundation. Over the past 16 years, the Foundation has provided community grants to Access programs totalling nearly $118,000. These grants have provided critical support for prgrams including pediatric wellness, dental, and behavioral health, along with our school based Celebrate Smiles and Primary Access for Kids.
"Access has a solid mission that's clear," explained Madison Rotary Foundation President Sara DeTienne. "Our members are doctors, dentists and business leaders. They see and understand the health care need in our community."
Rotary members identify their giving priorities through a regular survey. DeTienne said that basic needs, in addition to youth and families, rank high among the memberships' interests. With assets now totaling $11 million, the foundation makes annual grants of $600,000 to help improve people's lives through grants, scholarship and more.
That goal of helping youth and families and the club's interest in impacting diversity fits well with Access' work in the community and the people it serves.
"Our foundation is proud of the community grants program as well as our investment in the next generation," said DeTienne.
---
Patient Profile: Paul Quinn
Each year, over 15,000 Access patients rely on Medicaid to receive needed medical, dental or behavioral health care services. Through this important and essential program our patients are able to enjoy access to a broad array of services, including regular dental checkups and restorative work.Paul Quinn is one such patient. Paul came to Access by way of the former Max W. Pohle Dental Clinic at Meriter Hospital, which closed in 2015 and transitioned many of its patients to Access.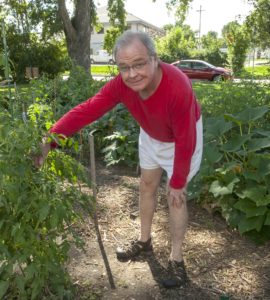 Quinn's story is one that is not uncommon for those in need of Medicaid coverage. Due to a disability that prevented him from working, as well as other unforeseen circumstances, he lacked necessary coverage to receive needed dental work. At the time, he had recently moved to Madison and had been putting off dental work for far too long.
"Previously, I had no dental coverage," said Quinn. "I found out online that there were only two places in Madison where you could get subsidized dental work – Medicaid dental work essentially – the Max Pohle Clinic and at Access.
"By the time I was transitioned to Access my dental appliance was falling apart and some of my crowns had fractured. I'm very glad I got in when I did."
Quinn is very thankful for the care that he has received at Access through his dentist, Dr. Andrew Welles, and all the assistants and hygienists he has encountered at the Joyce & Marshall Erdman Clinic in Madison. He acknowledges how important the Medicaid program is to people who need it.
"If you have bad teeth, it degrades your personality and makes you feel as if you're not the equal of other people," said Quinn. "(Having fixed teeth) really makes a difference in the terms of self-esteem."
He hopes that others in similar situations as his can find proper care and coverage through Medicaid, but acknowledges the difficulty.
"When you can't afford dental work you let things slide until you must do something," said Quinn. "I would have had to live with the precarious state of my mouth. Having access to high-quality services is incredibly important."