Happy Holidays and Thank You
Ken Loving, MD, CEO
As the holidays draw near, I'd like to thank all of you for what you've done to improve the health and lives of our patients over the past year.
The history of Access is proof that the community believes we should strive to provide health care for all. We have the ability to care for more people and provide expanded services because of your continued support.
Some of these successes over the past year can be measured quite easily, like the 27,212 patients served at our clinics, or the 124,459 patient visits, or the 730 homeless individuals that received care at our clinics.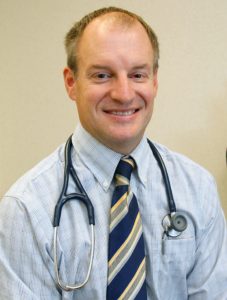 Other successes, however, may not be as measureable, but are nonetheless just as important in fulfilling our mission. It's the smile from a student receiving proper dental care through our Celebrate Smiles mobile dental program. It's a mom-to-be receiving free prenatal classes at our clinic in anticipation of her baby's arrival. It's a helping hand in signing up for health care coverage under the Healthcare Marketplace and BadgerCare.
Simply put, we're able to reach more people and provide them with proper medical, dental and behavioral health services, because you recognized a need in our community and chose to make a difference.
In the coming year, Access will continue to respond to the growing need in the community for its services in ways that have a deep impact on individuals and their families.
We are hiring additional medical providers and dentists (which will increase our dental practice by 20 percent and medical practice by 5 percent) to help create more opportunities for people within our community to receive needed medical, dental and behavioral health care.
We will continue advocacy efforts for our patients and their right to quality, affordable care.
Our Celebrate Smiles program will continue to expand into more area schools throughout the school year.
We will enhance our educational and clinical efforts for our patients by offering classes on childbirth, breastfeeding, nutrition, chronic pain, whole health and living with diabetes.
Your continued support helps us do so much more, so that we can continue to provide care that is essential to our community – care that helps change people's lives.
All of us at Access wishes you a happy and healthy holiday season. Thank you for your continued support of Access Community Health Centers and all of our patients.
---
Patient profile: John Terry
It's been a long road to sobriety for John Terry. He's fought an uphill battle with alcoholism and depression since he was 18. It's a disease that has cost him too much throughout his life – jobs, relationships and a home. He knew he had a problem but he was never able to get control of it until moving to Madison and finding out about Access.
He credits the individualized care and support that he received at Access through his provider, Dr. Nancy Pandhi, in kick-starting his road to recovery – and a new life.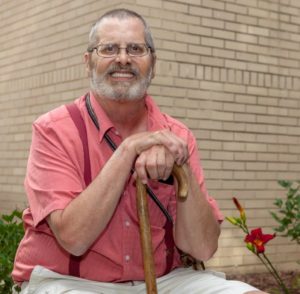 "With my mental health issues, I was not living in a place good for my sobriety. I knew I had to get sober but I didn't know how," said John. "My sobriety started with Access and with Dr. Pandhi. She realized that I needed some help and started me on the road to recovery, including helping me find better housing through Porchlight."
Porchlight is an organization that provides emergency shelter, food, employment services, counseling, and affordable transitional and permanent housing to homeless people in the Dane County area. Their services are designed to foster independence and the transition into permanent housing and employment.
After receiving support from Access and Porchlight, John has worked hard to turn his struggle into a positive. After being homeless for two years, he's found a place he can call home at a Porchlight facility in Madison. He volunteers for Porchlight to help others who struggle with similar issues. He even threw his hat into the ring and ran for City Alderman in 2016 to help raise awareness to homelessness in Madison.
He may have lost his election, but he won something more important – self-worth.
"With the help I've receive at Access and at Porchlight, it has helped me realize how much confidence I have in myself," said John. "Come January I will be four years sober. And, let me tell you, sobriety is good, and life is good."
---
A tapestry of our community
Being a part of the community is an important aspect of Access' mission. There is a reason community is part of our name. Community represents not only the people we serve, but also the neighborhoods where we provide service.
Our William T. Evjue Clinic serves a diverse patient population from Madison's east and north sides. These neighborhoods reflect tremendous diversity in income, race, and educational opportunities. Of Access' five clinics, the William T. Evjue Clinic serves the greatest number of patients, providing over 35,000 medical, dental, and behavioral health visits each year.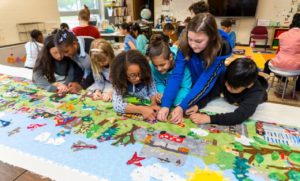 Nestled in the neighborhood a few blocks away from the William T. Evjue Clinic is Hawthorne Elementary School. The school serves children in grades K-5 and represents children of many different ethnicities and cultures.
In anticipation of a renovation project taking place at the William T. Evjue Clinic, Access collaborated with Hawthorne Elementary School, its students, art teacher Julie Olsen and local quilter Nancy Daly to create a "Storyscape Quilt" for the clinic's waiting room.
"We knew Access and we knew the great work they had done with Celebrate Smiles at our school," said Olsen. "We wanted to do something where every student in the school would be a part of the project. And that's where the quilt idea came from."
All of Hawthorne's 383 students, many of whom receive care at Access, helped to create the quilt. The "storyscape" highlights the unique aspects of the culturally rich Hawthorne school community, including the people, green spaces and neighborhood landmarks, including Access' William T. Evjue Clinic.
"We wanted to portray what makes our community unique," said Olsen. "And each student had an opportunity to create a particular piece for the quilt and then help sew it on. It was a great project for the children. It was nice to be able to give back and have the kids aware of that, that they were giving back to the clinic after all the dental care clinics that we've benefited from."
The project ‒ funded by the Capital Times Kids Fund and UW Credit Union ‒ began in March and the completed quilt was unveiled in an all-school assembly in late May, just before the end of the school year. It will be displayed at the William T. Evjue Clinic following its renovation next year.